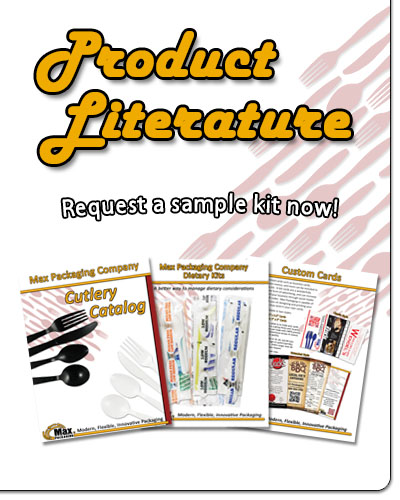 Since the mid 1900s, we've been in the food service distribution with one goal ahead of all others - providing quality products in a dependable manner. It's a heritage that we're proud of and will gladly continue. Please take a moment to review our product line through the menu above, as well as the product links below. If yo have any questions at all, don't hesitate to contact us.
Our line of products includes, but is not limited to: Plastic Cutlery, Dinner Kits, Custom Kits, Dietary Kits, Coffee Kits, Accessories and Condiments, Earth Friendly Items and Dispenser.
Max Stax dispenser information
Our first generation of dispensers are sold out for the year 2018. Availability of the second generation Max Stax dispenser will start in 2019.
Request product samples below
Samples Request Form

Need specifications on our cutlery?
Cutlery Catalog
Brochures List
40 Series Cutlery
50 Series Cutlery
60 Series Cutlery
60 Series Technical
70 Series Cutlery
Boxed 10/100 Cutlery
Chekpak and Custom Gingham Kits
CPLA 40 Series Cutlery
Custom Cards
Custom Kits (Long)
Custom Kits (Short)
Dietary Kits
Football Napkin
Max Stackables Eco-Benefits
Neon Spoons
New Gen F Series
Rolled Napkin Kits
Serving Utensils
Stock Kits

Calculators
Coupon Cost Redemption Calculator-[Excel Version]
Hand Rolling Cost Calculator-[Excel Version]